Adding Value to Your Community Research Outcomes
Over the last decade Micromex has established and refined a Council Satisfaction Model. This model was developed by running specialised analysis from over 30,000 LGA interviews conducted since 2006 and identifies the derived importance of different aspects of council activities and the impact they have on overall satisfaction with the council.
This analysis provides a clear understanding of how councils can up-weight community satisfaction by identifying the priorities and initiatives that will positively drive overall satisfaction.
From comparing the results of the Shapley Value Regression with a standard importance scale question, we identified that derived drivers of community satisfaction with Pittwater Council did not correlate with the attributes that the community stated were important.
In the example below, even though 'Access to Council information and Council support' has a lower relative stated importance – it is a key driver of resident satisfaction.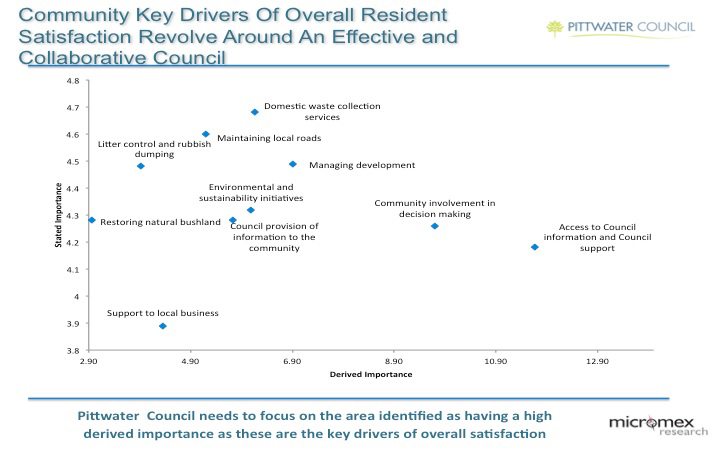 So What?
The learning from this is that if you solely rely on the stated community priorities, you may not be allocating the appropriate resources to the actual service attributes that will improve overall community satisfaction with council. This is primarily because with 'stated importance' questions, people do not differentiate very much between the importance of different items (e.g. everything is important – see previous chart), therefore, outputs based on stated importance questioning lack sensitivity in identifying actual hierarchies/priorities between service attributes.
If a council wants to better allocate resources and priorities, it needs to understand the dynamic of community satisfaction with council. By identifying and then focusing on the derived drivers of overall satisfaction, council is able to proactively improve community satisfaction with council performance.
Pittwater Council's Priority Outcomes
Of the 35 services/facilities we evaluated for Pittwater Council, we identified that the first 10 of these were the major drivers of resident satisfaction.
We can see in the graph below that 'maintaining local roads', which so very often is one of the key areas of community focus in many community surveys that rely on stated importance and satisfaction analysis, is actually only a secondary driver of community satisfaction with Pittwater Council. While community engagement variables such as 'Access to Council information and Council support', 'Community involvement in decision making' and 'Council provision of information to the community' account for over 25% of the overall satisfaction with Pittwater Council.
This outcome is not unique and from our analysis across a dozen LGAs in the last 12 months, we can clearly see that one of the key drivers of overall satisfaction with council is driven by the content and scope of council interaction with residents.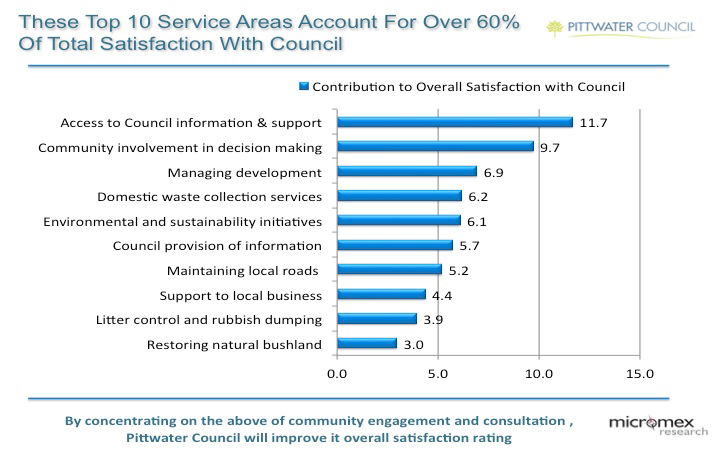 Using Resident Workshops to Contextualise Priorities
We have found that having a qualitative phase allows us to fully explore the community responses from the quantitative phase and achieve a deeper understanding of the community's perspective and their reaction to the community priority areas.
The regression analysis also allows us to map stated satisfaction with the derived importance, to identify opportunities to improve resident satisfaction at either a specific or general level.
Outcomes
A Shapley Value Regression will provide Council with a complete picture of the unique priorities of its residents and to identify which attributes are the key drivers of council satisfaction.
By using Shapley Value Regression analysis, we will provide Council with outcomes that will:
Identify and understand the hierarchy of community priorities from lowest to highest
Inform the deployment of Council resources and spend in line with community aspirations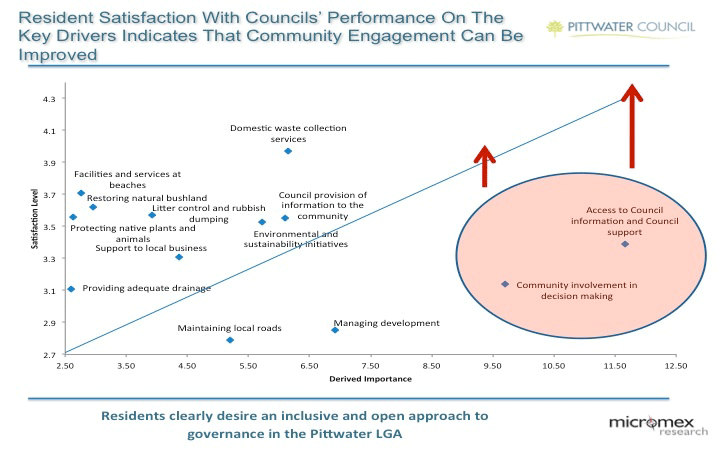 These outcomes will provide Council with a robust level of understanding of how to address community priorities and leverage community satisfaction with Council.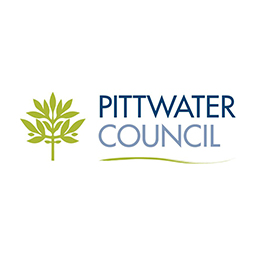 Our new approach to community research analysis has greatly increased the value of our community research and engagement offer, and assisted us in successfully contesting competitive community research tenders in the following LGAs and organisations since March 2010:
Ku-ring-gai Council
Pittwater Council
Randwick City Council
Auburn City Council
Campbelltown City Council
Wingecarribee Shire Council
Mid Western Regional Council
Liverpool Plains Council
Liverpool City Council
Rockdale City Council
Bankstown City Council
Sydney Convention Centre
Let's talk about helping you reach your target market...
10/1 Bounty Close
Tuggerah NSW 2259
enquiries@micromex.com.au
PO Box 5059
Chittaway Bay NSW 2261
What We Do
At Micromex we provide our clients with both qualitative and quantitative research solutions, driven by our highly experienced people and alongside the real benefit of our own in-house CATI centre and Australia wide field interview team.