Social & Community Research
Social & Community Research
Micromex has extensive experience in assisting Local Government Organisations in undertaking effective community research and engagement programs.
Over the last few years, Micromex Research has assisted more than 60 Government organisations in developing effective and actionable community research and consultation programs.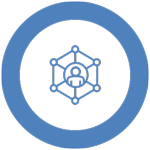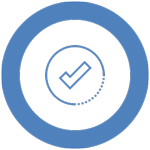 Our research outcomes clearly illustrate how Local Government Organisations can proactively drive community satisfaction.
The usual outcome of a community satisfaction survey is that all the services and facilities provided by Local Government entities end up being rated as important or very important.
As such, Micromex has developed innovative techniques that identify and understand the hierarchy of community priorities. Read more on Drivers of community satisfaction…
We not only discover what is important now but look at your stakeholders' aspirations.
Our goal is to connect you with your community.
Our 3-tiered approach to analysis provides our clients with 3 key benefits, which include the ability to:
Really identify and understand communities' priorities
Better allocate and target the application of resources
Benchmark their performance and your community's motivations against other government organisations
Why invest in Have Your Say Analysis?
We transform complex data into clear, compelling visualisations that make insights easy to understand Our data analysts are experts in dissecting community data and developing findings
We dive deep into participant responses to discover trends, patterns, and unique perspectives
What is our expertise?
Quantitative analysis – Including advanced statistical analysis and demographic analysis
Qualitative analysis – Derive meaningful insights from open-ended responses
Trend analysis – Identify trends and evolving community sentiment over time
Broad based community satisfaction research, including benchmarking
Local Government Brand Study
Community panel development & management
Business opportunities & economic development research
Tourism studies
Council rates analysis
Customer service analysis
Employee research
Communication/marketing audit & analysis
Stakeholder workshops/forums
Service specific research (library/waste/road safety/early childhood)
Event research Find out more…
Online panels Find out more…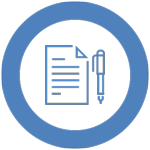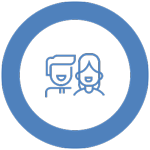 ACT Government See case study…
Landcom
Sustainable Illawarra
Sydney Harbour Foreshore Authority
Department of Community Services
RailCorp
Sydney Metro
Pittwater Council
Gosford City Council See case study…
Warringah Council
Randwick City Council
Rockdale City Council
Ku-ring-gai Council See case study…
Auburn City Council
Campbelltown City Council
Bankstown City Council
Wollondilly Council
Lake Macquarie City Council
Ballina Shire Council
Wingecarribee Council
Port Macquarie-Hastings Council
Wyong Shire Council
Sydney Olympic Park Authority
Sydney Convention & Exhibition Centre
Community Satisfaction Drivers
Research shows that residents rate all services and facilities provided by councils as important.
Our experience with over 60 councils indicates that the correlation between stated importance and overall satisfaction with councils is low. Read more on Drivers of community satisfaction…
By using Shapley's Regression Analysis, Micromex will provide insights into the factors that drive satisfaction. The approach is based on determining the statistical association between the performance ratings (stated importance) for a product or service attribute and a broader performance criterion (derived importance).
The outcomes will provide councils with a robust level of understanding of how to address community priorities and leverage community satisfaction.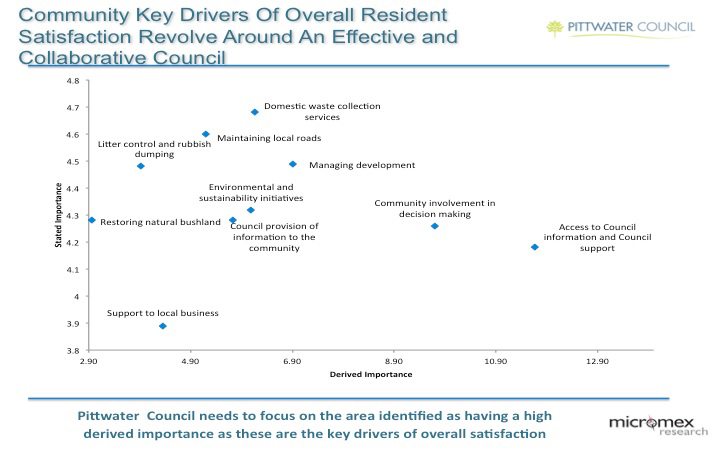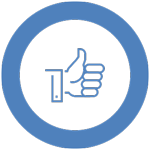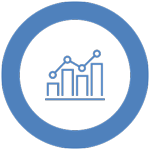 We have developed Benchmarks based on over 30,000 community interviews, which allow us to measure exactly how your organisation is performing relative to other providers in terms of servicing, facilities and resident satisfaction.
Commercial Market Research Solutions
Social & Community Research
Meetings & Events Research
Let's talk about helping you reach your target market...
10/1 Bounty Close
Tuggerah NSW 2259
enquiries@micromex.com.au
PO Box 5059
Chittaway Bay NSW 2261
What We Do
At Micromex we provide our clients with both qualitative and quantitative research solutions, driven by our highly experienced people and alongside the real benefit of our own in-house CATI centre and Australia wide field interview team.