Controversy and a national icon
Controversy and a national icon
​Advertising and horse racing are both controversial topics at the best of times, but in late 2018 this was more apparent than ever before. In October 2018 much debate and argument surrounded Racing New South Wales promotion of the $13m Everest horse race when imagery was projected onto the Sydney Opera House.
The Sydney Opera House has a policy on illuminating sails, that is intended to manage requests for use of the sails. The policy says approval for lighting the sails must not be detrimental to the heritage values of the building, and that logos and corporate identities are not to be projected. With the ultimate decision being at the discretion of the chief executive.
When faced with making a decision about the promotion of the race, the chief executive of the Sydney Opera House, Louise Herron indicated that she had agreed to light up the sails of the structure with jockeys' colours to promote the Everest horse race, but that she was resistant to projecting words or branding onto the sails, as she believed promoting the horse race was not in keeping with policy.
This decision was then overruled by the NSW Premier Gladys Berejiklian, who directed that the Everest Cup logo and horse numbers would be projected onto the Opera House.
After days of national backlash over the intervention, the sails were lit up, only to be met by thousands of protestors using bright lights to obscure the display.
Here at Micromex we felt that this topic was too big to be ignored and so we conducted a community survey of 903 NSW residents. Our research found that the majority of respondents felt that the values of politicians supporting this initiative were out of alignment with the broader community. See below for further details on this important piece of research.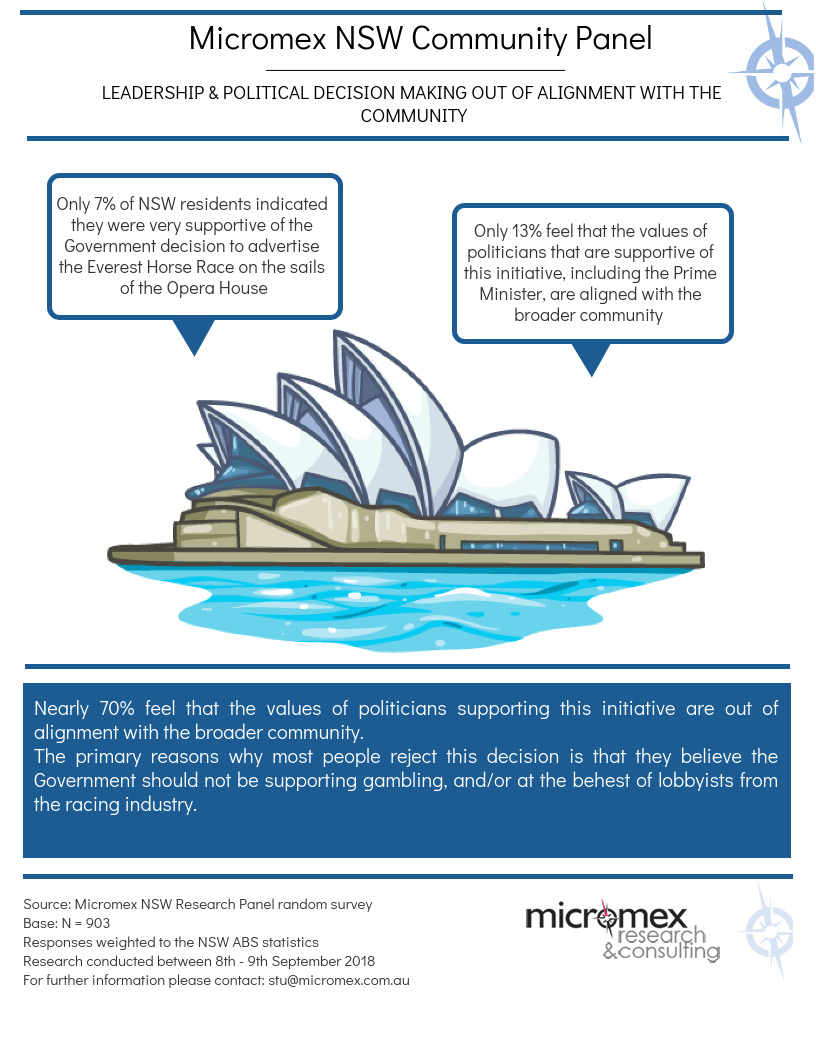 Let's talk about helping you reach your target market...
10/1 Bounty Close
Tuggerah NSW 2259
enquiries@micromex.com.au
PO Box 5059
Chittaway Bay NSW 2261
What We Do
At Micromex we provide our clients with both qualitative and quantitative research solutions, driven by our highly experienced people and alongside the real benefit of our own in-house CATI centre and Australia wide field interview team.